Hosea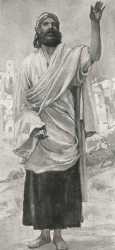 "Salvation", "He saves." The son of Beeri,1 and the first of the minor prophets. His prophetic career ran from ca. 750-725 BCE in Northern Israel. He denounced the idolatries of Israel and Samaria. He is the only prophet of Israel who has left any written prophecy. Hosea married Gomer, a prostitute, the daughter of Diblaim, at God's command.2 She bore him a son, Jezreel,3 a daughter, Loruhamah,4 and another son, Loammi.5
The style of his short prophetic book, the twenty-eighth of the Old Testament, is obscure. Hosea prophesied in a dark and melancholy period of Israel's history, the period of Israel's decline and fall. Their sins had brought upon them great national disasters.
The book may be divided into two parts, the first containing chapters 1-3, and symbolically representing the idolatry of Israel under imagery borrowed from the matrimonial relation. The figures of marriage and adultery are common in the Old Testament writings to represent the spiritual relations between Jehovah and the people of Israel. Here we see the apostasy of Israel and their punishment, with their future repentance, forgiveness, and restoration. The second part, containing 4-14, is a summary of Hosea's discourses, filled with denunciations, threatenings, exhortations, promises, and revelations of mercy.
Quotations from Hosea are found in Matt. 2:15; 9:15; 12:7; Rom. 9:25, 26. There are, in addition, various allusions to it in other places (Luke 23:30; Rev. 6:16, comp. Hos. 10:8; Rom. 9:25,
26; 1 Pet. 2:10, comp. Hos. 1:10, etc.).
❧
References
Notes
Source
Easton, M.G. (1897). Easton's Bible Dictionary. New York: Harper & Brothers.
This article incorporates text from Easton's Bible Dictionary (1897) by M.G. Easton, which is in the public domain.