Apeliotes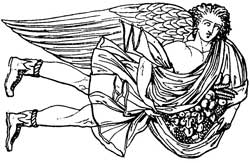 The god of the east wind, beneficial to farmers because it brings refreshing rains. In pure Latin, Subsolanus.
❧
Iconography
Apeliotes is allegorically depicted as cheerful youth, with curly hair, and wearing gumboots. In his mantle he carries the first fruits of the year.
References
Sources
Pierer's Universal-Lexikon, Band 1. (1857). Altenburg, p. 598.
Bonnerjea, Biren. (1920). A Dictionary of Superstitions and Mythology. Thomson Gale.

Catullus, xvi, 3.

Pliny. The Natural History ii, 47; xviii, 77.