buggane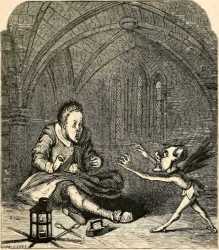 A mischievous shape-shifter in Manx folklore that chases and frightens people. It has black hair and lives in caves. One buggane haunted the church of St. Trinion, tossing the roof to the ground as soon as it was nearly finished. It once chased a tailor who, to escape the buggane's wrath, leaped into consecrated ground where the buggane was unable to follow. Determined to punish the tailor, the buggane lifted its great head from its body, and with great force pitched it to the feet of the man, where it exploded. The tailor wondrously escaped unscathed.
❧
References
Sources
Callow, E. (1882). The Phynodderree, and other legends of the Isle of Man. London: J. Dean and Son, pp. 85 ff.
Denham, M.A. (1892). The Denham Tracts. Vol. 1. Strand: David Nutt, pp. 202-3.
Train, J. (1845). An historical and statistical account of the Isle of Man. Vol. 2. Douglas: Mary A. Quiggin, p. 61.