Deborah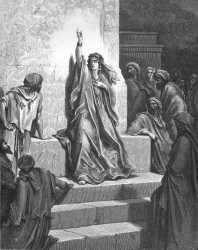 "A bee." A prophetess, the wife of Lapidoth, and judge of Israel. She dwelt under palm tree of Deborah between Ramah and Bethel in mount Ephraim, and "the children of Israel came up to her for judgment."
Jabin, the king of Hazor, had for twenty years held Israel in subjection. Deborah summoned Barak from Kadesh to take the command of 10,000 men of Zebulun and Naphtali, and lead them to Mount Tabor on the plain of Esdraelon at its northeast end. She drew Sisera, the captain of Jabin's army, with his chariots and his men to the river of Kishon, and there they were vanquished by Barak. In Judg. 5 is given the triumphal ode, the "song of Deborah," which she wrote in commemoration of their victory.
Deborah is the only female judge mentioned in the Bible.
❧
References
Sources
Easton, M.G. (1897). Easton's Bible Dictionary. New York: Harper & Brothers.

Judg. 4:6, 14; 5:7.