Erato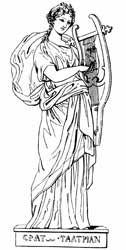 "Lovely." The Muse of lyric poetry, particularly erotic poetry, and mimic imitation.
❧
Iconography
She is depicted with a stringed instrument in her hands, such as the lyre.
References
Sources
Aken, Dr. A.R.A. van. (1961). Elseviers Mythologische Encyclopedie. Amsterdam: Elsevier.
Bartelink, Dr. G.J.M. (1988). Prisma van de mythologie. Utrecht: Het Spectrum.
Cooper, J.C., ed. (1997). Brewer's Book of Myth and Legend. Oxford: Helicon Publishing Ltd.
Lurker, Manfred. (2004). Routledge Dictionary of Gods and Demons. London: Routledge.
Pseudo-Apollodorus. The Library i, 2.7, 3.1.