Eurus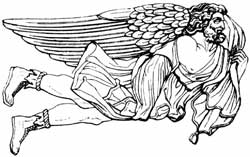 The Greek god of the east wind, or rather, the southeast wind which brings oppressive warmth and rain and severe thunderstorms. He is one of the Anemoi. Eurus' symbol is an inverted vase, spilling water, symbolizing rain.
His Roman counterpart is Vulturnus.
❧
Iconography
Eurus is represented on the Tower of the Winds with his hair flying back, a tangled beard, and a scowling look. He is clad in a long garment, the folds of which he holds threateningly before his face.
References
Sources
Aken, Dr. A.R.A. van. (1961). Elseviers Mythologische Encyclopedie. Amsterdam: Elsevier.
Bartelink, Dr. G.J.M. (1988). Prisma van de mythologie. Utrecht: Het Spectrum.
Grimal, Pierre; Kershaw, Stephen. (1992). The Penguin Dictionary of Classical Mythology. London: Penguin Books.
Vollmer, Wilhelm. (1874). Wörterbuch der Mythologie. Stuttgart, p. 197.