Ezekiel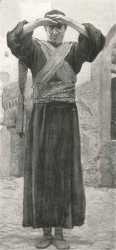 "God will strengthen." One of the great prophets, the son of Buzi the priest.1 He was one of the Jewish exiles who settled at Tel-Abib, on the banks of the Chebar River, "in the land of the Chaldeans." He was probably carried away captive with Jehoiachin.2 His prophetic call came to him "in the fifth year of Jehoiachin's captivity." He had a house in the place of his exile, where he lost his wife, in the ninth year of his exile, by some sudden and unforeseen stroke.3 He held a prominent place among the exiles, and was frequently consulted by the elders.4 His ministry extended over twenty-three years,5 during part of which he was contemporary with Daniel6 and Jeremiah, and probably also with Obadiah. The time and manner of his death are unknown. His reputed tomb is pointed out in the neighborhood of Baghdad, at a place called Al Kefil.
The chapters 1.-24 of his book, the twenty-sixth of the Old Testament, contain predictions before the fall of Jerusalem and chapters 25.-48 contain predictions after that event. The visions of the Temple (40.-48) are a unique feature of the book.
In Islam he is called Dhul-Kifl.
❧
References
Notes
Source
Easton, M.G. (1897). Easton's Bible Dictionary. New York: Harper & Brothers.
This article incorporates text from Easton's Bible Dictionary (1897) by M.G. Easton, which is in the public domain.