Jonah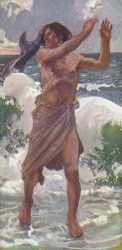 "Dove." The fifth of the lesser prophets, the son of Amittai of Amittai of Gath-hepher,1 who lived in the eighth century BCE. He was a prophet of Israel, and predicted the restoration of the ancient boundaries2 of the kingdom. He exercised his ministry very early in the reign of Jeroboam II. Jonah was commissioned to denounce Nineveh, the capital of the ancient kingdom of Assyria. Instead, he set off upon a vessel bound for Jaffa. When the ship got caught in a storm, he told the men to cast him overboard as a sacrifice to God, so that the seas would calm. He was subsequently swallowed by a "big fish" in which he remained three days and three nights before escaping.3 Jonah's personal history is mainly to be gathered from the book which bears his name
His book, the thirty-second of the Old Testament and fifth of the minor prophets, gives an account of:
his divine commission to go to Nineveh, his disobedience, and the punishment following (1:1-17);
his prayer and miraculous deliverance (1:17-2:10);
the second commission given to him, and his prompt obedience in delivering the message from God, and its results in the repentance of the Ninevites, and God's mercy toward them (ch. 3);
Jonah's displeasure at God's merciful decision, and the rebuke tendered to the impatient prophet (ch. 4).
Jonah and his story is referred to by Jesus.4
In the Islamic tradition he is called Yunus. His story is repeated, with several differences, in the Qur'an.
❧
References
Notes
Source
Easton, M.G. (1897). Easton's Bible Dictionary. New York: Harper & Brothers.
This article incorporates text from Easton's Bible Dictionary (1897) by M.G. Easton, which is in the public domain.