jorōgumo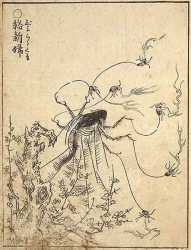 "binding lady." A spider that can change its shape into that of a beautiful and seductive woman. She entices men with her music and when they are distracted binds them with silk spider threads and eats them.
The jorōgumo belongs to the yōkai class of supernatural creatures.
❧
The name is also written as 女郎蜘蛛, meaning "prostitute spider."
References
Source
Toriyama Sekien. Gazu Hyakki Yakō.