Morpheus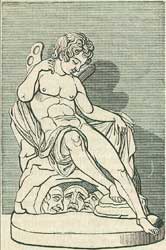 "Form, shape." The Greek god of dreams, son of Hypnos, who lay in dim cave on an ebony bed, surrounded by poppies. He appeared to people in their dreams in human form. His brothers Icelus and Phantasus appeared as animals and inanimate objects respectively. See also Oneiroi.
The name is derived from the Greek morphe, "form, shape." Morpheus played no active part in Greek religion.
❧
References
Sources
Aken, Dr. A.R.A. van. (1961). Elseviers Mythologische Encyclopedie. Amsterdam: Elsevier.
Bartelink, Dr. G.J.M. (1988). Prisma van de mythologie. Utrecht: Het Spectrum.
Ovid. Metamorphoses xi, 635.