Naomi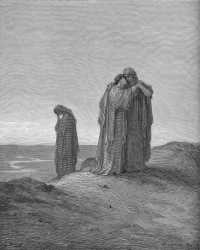 "The lovable", "My delight." The wife of Elimelech, and mother of Mahlon and Chilion, and mother-in-law of Ruth.1 Elimelech and his wife left the district of Bethlehem-Judah, and found a new home in the uplands of Moab. In course of time he died, as also his two sons Mahlon and Chilion, who had married women of Moab, and three widows were left mourning the loss of their husbands. Naomi longs to return now to her own land, to Bethlehem. One of her widowed daughters-in-law, Ruth, accompanies her, and is at length married to Boaz.
At Bethlehem, she calls herself Mara ("Bitter").2 She said to the women there, "Do not call me Naomi; call me Mara, for the Almighty has dealt very bitterly with me. I went away full, and the Lord has brought me back empty. Why call me Naomi, when the Lord has testified against me and the Almighty has brought calamity upon me."
❧
References
Notes
Source
Easton, M.G. (1897). Easton's Bible Dictionary. New York: Harper & Brothers.
This article incorporates text from Easton's Bible Dictionary (1897) by M.G. Easton, which is in the public domain.