Nilus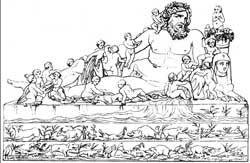 The god of the river Nile in Egypt, a son of Oceanus and Tethys. He is the father of Chione and Memphis.
According to Pindar he is a son of Cronus.1
❧
References
Notes
Sources
Hesiod. Theogony, 338.
Pseudo-Apollodorus. The Library ii, 1.4.
Servius on Virgil's Aeneid iv, 250.
Smith, William. (1870). Dictionary of Greek and Roman Biography and Mythology. London: Taylor, Walton, and Maberly.