Notus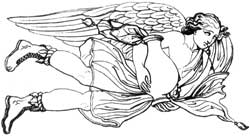 The Greek god of the south wind, who brought storms and fog and rain in late summer and autumn, which often destroyed crops. Notus was a son of Eos and Astraeus, and one of the Anemoi.
❧
Iconography
Notus was depicted at Athens as a beardless youth carrying an urn from which water is pouring.
References
Source
Hesiod. Theogony, 378; Work and Days, 641.