ten-gū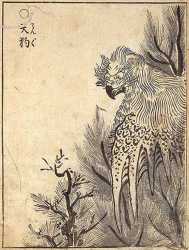 "heavenly dogs." In Japanese folk beliefs, a class of supernatural creatures. They belong to the yōkai class of demons and spirits. According to a later version of the Kujiji, they are the offspring of Ama-no-zako, who in turn was born from the storm god Susa-no-o.
The ten-gū were initially regarded in Buddhism as the harbingers of war, but they gradually turned into protective, albeit dangerous, mountain and forest spirits.
❧
Iconography
The ten-gū were initially depicted as large birds of prey, with both avian and human characteristics. Over time their beaks were humanized as unnaturally long noses.
References
Sources
Leach, Maria, ed. (1984). Funk & Wagnalls Standard Dictionary of Folklore, Mythology, and Legend. New York: HarperCollins.
Lurker, Manfred. (2004). Routledge Dictionary of Gods and Demons. London: Routledge.
Toriyama Sekien. Gazu Hyakki Yakō.