unicorn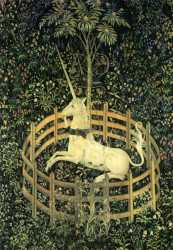 A mythical animal, depicted as a slender (white) horse with a spiraled horn growing from its forehead. The horn, if dipped in a liquid, will show it if contains poison. According to popular belief, unicorns can be only approached or caught by virgins.
❧
Middle English, via Old French from Latin unicornis, from uni-, "single," + cornu, "horn." (Greek monokerōs.)
References
Source
Bonnerjea, Biren. (1920). A Dictionary of Superstitions and Mythology. Thomson Gale.