yama-uba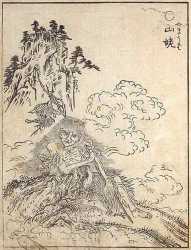 "mountain crone." A mountain witch, a popular character in Japanese tales. She appears as a hideous old woman with long unkempt golden-white hair and a mouth that stretches the width of her face. She is typically dressed in a tattered and dirty red kimono.
❧
References
Sources
Bocking, Brian. (1996). A Popular Dictionary of Shinto. Richmond: Curzon Press.
Toriyama Sekien. Gazu Hyakki Yakō.