Adrasteia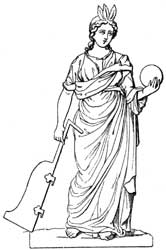 A Cretan nymph, daughter of Melisseus and Amalthea. She and her sister Ide reared Zeus in the Dictaean grotto. According to Apollonius Rhodius1 she gave Zeus a beautiful globe (σφαῖρα) to play with.
❧
Iconography
Several Cretan coins represent Zeus sitting on a globe.
References
Notes
Sources
Callimachus. Hymn to Zeus, 47.
Pseudo-Apollodorus. The Library i, 1.6.
Smith, William. (1870). Dictionary of Greek and Roman Biography and Mythology. London: Taylor, Walton, and Maberly.