Baudoin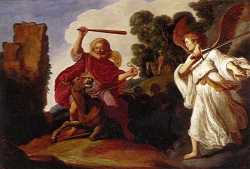 The name of Balaam's donkey. The animal is said to have spoken to Balaam on one occasion, when they encountered an angel of the God, who had been sent as an adversary against him. Each time the angel — who was invisible to Balaam — blocked their path, the donkey refused to pass, and Balaam struck her with his staff. When there was nowhere else to turn, she lay down and again Balaam struck her.
28

Then the Lord opened the mouth of the donkey, and she said to Balaam, "What have I done to you, that you have struck me these three times?"

29

And Balaam said to the donkey, "Because you have mocked me. I wish there were a sword in my hand, for now I would kill you!"

30

So the donkey said to Balaam, "Am I not your donkey on which you have ridden, ever since I became yours, to this day? Was I ever disposed to do this to you?" And he said, "No."
At that moment the angel revealed himself and said to Balaam, "Why have you struck your donkey these three times? Behold, I have come out to stand against you, because your way is perverse before me. The donkey saw me and turned aside from me these three times. If she had not turned aside from me, surely I would also have killed you by now, and let her live."
❧
References
Sources
Bonnerjea, Biren. (1920). A Dictionary of Superstitions and Mythology. Thomson Gale.

Num. 22:23-33.