dís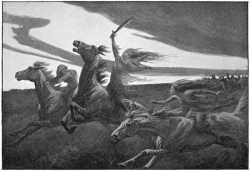 "lady." The dísir are a group of supernatural female beings — ghosts, spirits, or deities — who seem to have been associated with fate, fertility, but also with the dead. They are called "dead women" in Atlamál. The eddic poem Guðrúnarkviða I describes valkyries as Herjans dísir, "the dísir of Odin." A title of the goddess Freyja was Vanadís, "dís of the Vanir."
A sacrificial festival, the dísablót, is mentioned in Egils saga and in Víga-Glúms saga. According to Víga-Glúms saga it was held at the onset of winter. The festival is first witnessed in the ninth-century skaldic poem Ynglingatal by the Norwegian skald Þjóðólfr of Hvinir.
❧
References
Sources
Atlamál, 28.
Guðrúnarkviða I, 19.