faun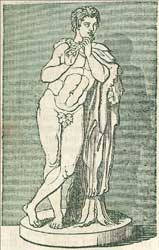 Woodland divinities in Roman mythology, portrayed with small horns, goat's feet, and a small tail. They are similar to the Greek satyrs.
❧
Iconography
Famous is the bronze statue of a dancing faun from the Casa del Fauno at Pompeii (Museo Nazionale, Naples). In Munich, the Barberini Faun (third century BCE, partially restored).
References
Sources
Aken, Dr. A.R.A. van. (1961). Elseviers Mythologische Encyclopedie. Amsterdam: Elsevier.
Bartelink, Dr. G.J.M. (1988). Prisma van de mythologie. Utrecht: Het Spectrum.
Ovid. Fasti v, 99; Heroides iv, 49.