Galatea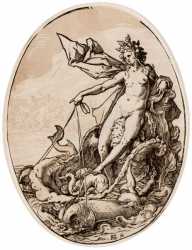 "Milk-white." A Nereid, daughter of Nereus and Doris, and beloved by Polyphemus. She herself was in love with the beautiful youth Acis. When Polyphemus crushed Acis beneath a rock in a fit of jealousy, she threw herself into the sea where she joined her sisters.
According to a later tradition Galatea eventually yielded to Polyphemus' embraces. Their son, Galas or Galates, became the ancestor of the Gauls.
The woman Galatea who was beloved by the sculptor Pygmalion is a different person.
❧
Carlo Maratti (1625-1713) depicted Galatea in the sea and Polypheme sitting on a rock. Händel has an opera named Acis and Galatea (1720).
References
Sources
Aken, Dr. A.R.A. van. (1961). Elseviers Mythologische Encyclopedie. Amsterdam: Elsevier.
Bartelink, Dr. G.J.M. (1988). Prisma van de mythologie. Utrecht: Het Spectrum.
Cooper, J.C., ed. (1997). Brewer's Book of Myth and Legend. Oxford: Helicon Publishing Ltd.
Hesiod. Theogony, 251.
Homer. Iliad xviii, 45.