Nurarihyon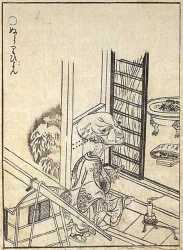 A yōkai, a spirit who sneaks into people's homes while they are away to drink their tea, acting as if it is his own house.
Nurarihyon is said to originate from Wakayama Prefecture or from Okayama Prefecture. Sometimes mentioned as the leader of the yōkai.
❧
Nurarihyon is depicted as an old man with a head shaped like a gourd. He wears a the robes of a Buddhist monk.
References
Source
Toriyama Sekien. Gazu Hyakki Yakō.