Skrýmir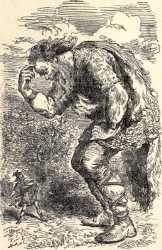 "Braggart." A mighty jötunn who offered to guide Thor and his companions to Útgarðar but along the way humiliates the travelers, notably Thor.
Snorri Sturluson tells in Gylfaginning how Thor and Loki, along with Thor's newly acquired servants Þjálfi and Röskva, journey towards Jötunheimr:
As soon as it had become dark, they sought themselves shelter for the night, and found before them a certain hall, very great: there was a door in the end, of equal width with the hall, wherein they took up quarters for the night. But about midnight there came a great earthquake: the earth rocked under them exceedingly, and the house trembled. Then Thor rose up and called to his companions, and they explored farther, and found in the middle of the hall a side-chamber on the right hand, and they went in thither. Thor sat down in the doorway, but the others were farther in from him, and they were afraid; but Thor gripped his hammer-shaft and thought to defend himself. Then they heard a great humming sound, and a crashing.

But when it drew near dawn, then Thor went out and saw a man lying a little way from him in the wood; and that man was not small; he slept and snored mightily. Then Thor thought he could perceive what kind of noise it was which they had heard during the night. He girded himself with his belt of strength, and his divine power waxed; and on the instant the man awoke and rose up swiftly; and then, it is said, the first time Thor's heart failed him, to strike him with the hammer. He asked him his name, and the man called himself Skrýmir,—'but I have no need,' he said, 'to ask thee for thy name; I know that thou art Ása-Thor. But what? Hast thou dragged away my glove?' Then Skrýmir stretched out his hand and took up the glove; and at once Thor saw that it was that which he had taken for a hall during the night; and as for the side-chamber, it was the thumb of the glove. Skrýmir asked whether Thor would have his company, and Thor assented to this. Then Skrýmir took and unloosened his provision wallet and made ready to eat his morning meal, and Thor and his fellows in another place. Skrýmir then proposed to them to lay their supply of food together, and Thor assented. Then Skrýmir bound all the food in one bag and laid it on his own back; he went before during the day, and stepped with very great strides; but late in the evening Skrýmir found them night-quarters under a certain great oak. Then Skrýmir said to Thor that he would lay him down to sleep,—'and do ye take the provision-bag and make ready for your supper.'

Thereupon Skrýmir slept and snored hard, and Thor took the provision-bag and set about to unloose it; but such things must be told as will seem incredible: he got no knot loosened and no thong-end stirred, so as to be looser than before. When he saw that this work might not avail, then he became angered, gripped the hammer Mjöllnir in both hands, and strode with great strides to that place where Skrýmir lay, and smote him in the head. Skrýmir awoke, and asked whether a leaf had fallen upon his head; or whether they had eaten and were ready for bed? Thor replied that they were just then about to go to sleep; then they went under another oak. It must be told thee, that there was then no fearless sleeping. At midnight Thor heard how Skrýmir snored and slept fast, so that it thundered in the woods; then he stood up and went to him, shook his hammer eagerly and hard, and smote down upon the middle of his crown: he saw that the face of the hammer sank deep into his head. And at that moment Skrýmir awoke and said: 'What is it now? Did some acorn fall on my head? Or what is the news with thee, Thor?' But Thor went back speedily, and replied that he was then but new-wakened; said that it was then midnight, and there was yet time to sleep.

Thor meditated that if he could get to strike him a third blow, never should the giant see himself again; he lay now and watched whether Skrýmir were sleeping soundly yet. A little before day, when he perceived that Skrýmir must have fallen asleep, he stood up at once and rushed over to him, brandished his hammer with all his strength, and smote upon that one of his temples which was turned up. But Skrýmir sat up and stroked his cheek, and said: 'Some birds must be sitting in the tree above me; I imagined, when I awoke, that some dirt from the twigs fell upon my head. Art thou awake, Thor? It will be time to arise and clothe us; but now ye have no long journey forward to the castle called Útgardr. I have heard how ye have whispered among yourselves that I am no little man in stature; but ye shall see taller men, if ye come into Útgardr. Now I will give you wholesome advice: do not conduct yourselves boastfully, for the henchmen of Útgarda-Loki will not well endure big words from such swaddling-babes. But if not so, then turn back, and I think it were better for you to do that; but if ye will go forward, then turn to the east. As for me, I hold my way north to these hills, which ye may how see.' Skrýmir took the provision-bag and cast it on his back, and turned from them across the forest; and it is not recorded that the Æsir bade him god-speed.
It is later revealed to them that Skrýmir was, in fact, Útgarða-Loki himself in disguise.
The episode is referenced to in Lokasenna, where Loki mocks Thor for having hidden in the thumb of a glove and forgetting that he was Thor, and for being unable to open the straps of Skrýmir's knapsack. A similar accusation is made by Hárbarðr in Hárbarðsljóð, but here the giant is called Fjalarr.
❧
References
Sources
Gylfaginning, 45.
Hárbarðsljóð, 26.
Lokasenna, 60, 62.