Sir Dagonet
by Brian Edward Rise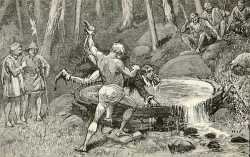 A foolish knight from the French Vulgate Lancelot. In Mallory's Le Morte d'Arthur he is called the fool of King Arthur, and was knighted by the king himself.
❧
"I remember at Mile-End Green, when I lay at Clement's Inn, I was then Sir Dagonet in Arthur's show." - Henry IV., iii. 2. (Justice Shallow).
References
Source
Cobham Brewer, E. (2001). The Dictionary of Phrase and Fable. Cassell reference.