Terpsichore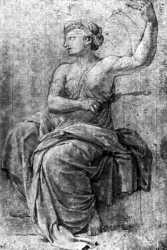 "Delighting in the dance." The Muse of choral song and dancing, a daughter of Zeus and Mnemosyne. Terpsichore is mentioned as the mother of the Sirens by Achelous,1 and of Hymen by Apollo.2
❧
The names comes from the τέρπω, "delight," and χoρός, "dance."
Iconography
Terpsichore was portrayed seated, holding a lyre and a plectrum.
References
Notes
Sources
Aken, Dr. A.R.A. van. (1961). Elseviers Mythologische Encyclopedie. Amsterdam: Elsevier.
Cooper, J.C., ed. (1997). Brewer's Book of Myth and Legend. Oxford: Helicon Publishing Ltd.
Hesiod. Theogony, 78.
Pindar. Isthmian Odes ii, 7.
Plato. Phaedrus p. 259.