billow maidens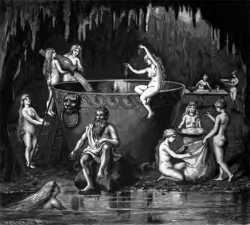 The nine giant daughters of Ægir and Rán. Snorri Sturluson gives their names as: Himinglæva, Dúfa, Blóðughadda, Hefring, Hrönn, Uðr (or Unnr), Bylgja, Bára, and Kólga. He lists them again in another chapter but here replaces Bára with Dröfn. Their names are poetic terms for various types of waves.
In Helgakviða Hundingsbana I, a wave that threatened to overwhelm Helgi's ship is called "Ægir's terrible daughter."
❧
References
Sources
Helgakviða Hundingsbana I, 29.
Skáldskaparmál, 25, 40, 60.