Grímhildr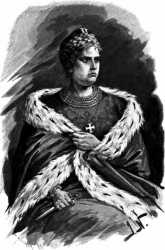 The wife of Gjúki and by him the mother of Högni, Guðný, Guðrún, and Gunnarr. When Sigurðr arrived at Gjúki's court, Gjúki entreated him to stay there, and he remained for a while. Grímhildr desired Sigurðr's treasure for her family, and gave him a horn containing a magic potion. He took it and drank, and with that drink he forgot his beloved Brynhildr and his vows to her. Grímhildr induced him to marry her daughter Guðrún, and then encouraged her son Gunnarr to woo Brynhildr.
After Sigurðr's death she made Guðrún marry Atli, the brother of Brynhildr.
❧
References
Sources
Brot af Sigurðarkviðu.
Grípisspá, 35, 51.
Skáldskaparmál, 41.
Völsunga saga, 25, 26.